Biennale Apartments Venice – San Piero
---
Biennale Apartments in Venice

We offer two apartments in Venice in the residential district of Castello, close to the Biennale, the Arsenale and the Giardini area.
The ideal apartments to enjoy the lively sestiere of Castello.
Biennale Apartment Venice – Marco  : up to 5 guests, 3 bedrooms, 1 bathroom
Biennale Apartment Venice – Roby   : up to 5 guests, 3 bedrooms, 3 bathrooms
If you opt to spend your holiday in Venice, our rental apartments in the Castello district will certainly be the ideal location for making the most of your holiday in this magical city.

Our Apartments in Venice
Our Biennale Apartments in Venice are fully air-conditioned: each unit comes with a fully equipped kitchen, a living area with a Flat Screen SmartTV and free WiFi.
Non-smoking property. Individually furnished, each of our apartments features one modern private bathroom.
The apartments are SELF-CATERING.
We provide linen, towels, some kitchen table linen and a courtesy set. All goods for everyday use have to be bought or brought by the Guest.
HEATING: Central heating system is activated in the apartments, according to Italian laws in the province of Venice from October 15th until April 15th. After such date the Air Conditioning System can be switched on from April 15th until October 15th. These are rules dictated by the City of VENICE and expected to be followed by every resident and visitor.

ADDITIONAL COSTS:
All additional costs (final cleaning, eventual late arrival, city tax) are not included from the daily rate of the apartment and are therefore considered surcharges and must be paid by the Guest upon arrival.
Final cleaning: € 60
Obligatory daily city tax set per person by the City of Venice : Euro 4 per person up to the 5th day.
Normal check-in is from 3pm to 8.00 pm.
In the event of arrival after 8.00 pm an extra charge of Euro 30.00 will be due upon arrival till, and not later than,  10.00 p.m.
Any check-in between 10.00pm and 11.30pm will be charged Euro 50.00 and can only be accepted by previous arrangement.
Any check in after 8.00pm is any case upon request and possible only according to our availability.
Check-out is by 10 am – we do not have a storage room, but we could offer late check-out upon agreement.
We offer you an easy and fast check in without stress, cause we will take care fo you personally.
Fast arrival is offered with Alilaguna service directly from the Venice Airport Terminal.
Live and feel like a venetian, having an unique experience with high quality standards
The District of Castello in Venice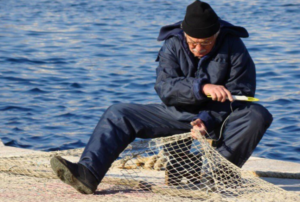 Restaurants and bars are within walking distance from the apartments. Rialto Bridge can be reached within a 20-minute walk. Castello is a great choice for travelers interested in photography, walking and city walks. It gives you the real sense of the Dolce Vita in Venice.
You'll stay in the most "Venetian part of Venice": the part where you can still see old women chatting outside their homes, the part where you can see fishermen settle down their fishing nets in the morning, the part where you can make a long morning run admiring the laguna.
The Castello district is the largest and most eastern of Venice. If you compare the city to a fish, the Castello district represents the "tail", therefore one of its peculiarities is that it is the only district that does not overlook the Grand Canal.
This district takes its name from a castle of which no trace remains.
The apartment is only 2 minutes wlak from Campo San Pietro where the homonymous church by Andrea Palladio stands. The bell tower is by Mauro Codussi from 1488.
The "campo" is embelisshed by tall trees and benches,  hidden in a very quiet corner of the city even in the middle of the tourist season.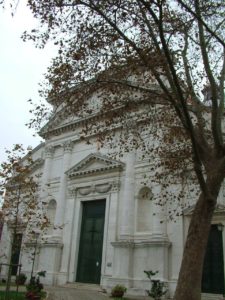 Near San Pietro there are the gardens of the International Art Exhibition of the Biennale and a little further on, crossing a bridge, you reach the island of Sant'Elena, the green lung of the city and a modern residential district, highly appreciated for its its tranquility.